Manufacture of Unshaped Refractory Materials
Manufacture of Unshaped Refractory Materials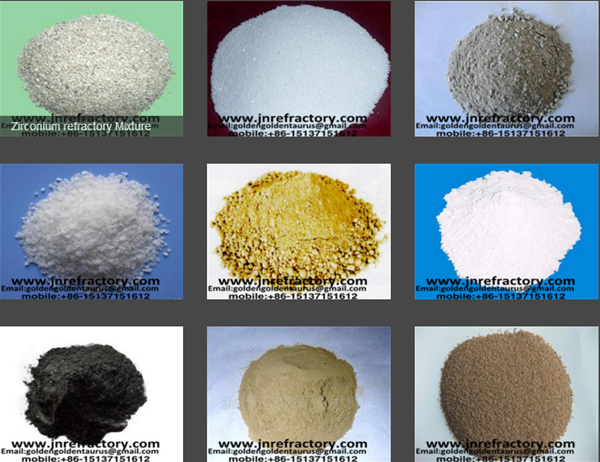 Unshaped refractories are a kind of non-forming and can be used directly refractory materials,are composed of a reasonably graded granular and powdered material and binder. Unshaped refractories has no fixed shape, can be made into slurry, mud paste and scattered, thus also known as bulk refractory material.
Unshaped refractory particles and fine powder can be composed of any material of refractory materials, and can be divided into raw materials: siliceous refractories, clay refractories, high alumina refractories, magnesia refractory, dolomite refractory Materials, chrome refractories and so on.
The method of manufacturing the unshaped refractories is as follows:
1.Ramming molding 2.Vibration molding 3. Injection molding
When the refractory brick masonry or the overall structure of the local damage, the use of such materials to replace or use of jet, projection equipment for cold and hot repair, both rapid and economical. But also according to its material properties,used as all parts of the kiln lining and masonry protective layer and seams material.
Gongyi Taurus Refractory Material Factory is a professional refractory materials manufacturers and refractory materials suppliers,mainly supply
Unshaped Refractories
,
Silicon Carbide Refractory Castable
,
Castable Refractory Cement
,
Pouring Material
,
Castable Refractory Concrete
,
Silica Ramming Mass
etc. series of refractory materials products, sincerely welcome everyone to visit.
Website:
http://www.jnrefractory.com
Contact: Mr. Niu
Tel: +86-371-64372566
Fax: +86-371-64372588
Mobile Phone: +86-15137151612
Email:
info@jnrefractory.com
gyjinniu@163.com
products list :
castable refractory cement for up lead copper rod
Molten Zinc Refractory Casting
Molten Zinc Ramming Mass
Molten Aluminum Refractory Material
refractory castable for up lead copper rod
Special Refractory Ramming Mass
Copper alloy refractory materials for electric furnace
acidic refractory for electric furnace body
electric furnace refractory material for copper smelting
Corrosion resistance Molen Zinc Refractory Castable for up lead copper rod
High Strength Refractory Mortar
Refractory installation services Fireclay
Light-weight Castable Refractory
Casting Refractory
Email Us(*)Required information